Coronavirus: How to deliver building renovations and maintenance in a way that is simple for landlords and non-disruptive to tenants/homeowners
Following the announcement of a second and third national lockdown, the UK Government has confirmed that the housing market will remain open and tradespeople should continue to work in people's home. The Coronavirus crisis means landlords are having to overhaul the way in which they provide building renovations and maintenance in their properties. The need to protect vulnerable people means face-to-face appointments are no longer appropriate. However, the upgrade and maintenance of homes still needs to be carried out and is now more essential than ever.
Some 80% of buildings that will exist in 2050 have already been built (Royal Academy of Engineering, 2010). Therefore, maintaining and upgrading the UK's housing stock is an inescapable challenge. There is limited useful information available to inform decision making and therefore maintenance is often reactive, laborious and difficult. How can landlords of all sizes ensure that they continue to maintain their properties while also protecting their tenants and suppliers from the virus?
The government has published detailed guidance on how to work safely in people's homes to help landlords and tradespeople to continue delivering planned work. As an example, TrustMark, the Government Endorsed Quality Scheme has recently released a guide to inform installers what they have to do before, during and after the work visit. This has been supported by the Construction Leadership Council and resulted in the launch of an online campaign #WorkSafeSafeWork. The campaign aims to sensitise customers on revised working practices and more importantly build confidence and reassurance.
The challenge for all tradespeople is delivering works, whilst balancing the requirement to keep tenants, residents, staff and volunteers safe. Q-Bot, a London based company, working across the UK is one example. Q-Bot surveying technologies allows property owners to efficiently gather data on their properties to support decision making around upcoming retrofit programmes and maintenance works. Q-Bot also uses intelligent robots to remotely apply insulation underneath floorboards. This robotic under-floor insulation service can be implemented with minimal disruption to tenants and without requiring any face-to-face interaction between tenants, landlords and suppliers. Whilst completing the installation Q-Bot's robots collect key property data for remote verification and quality assurance.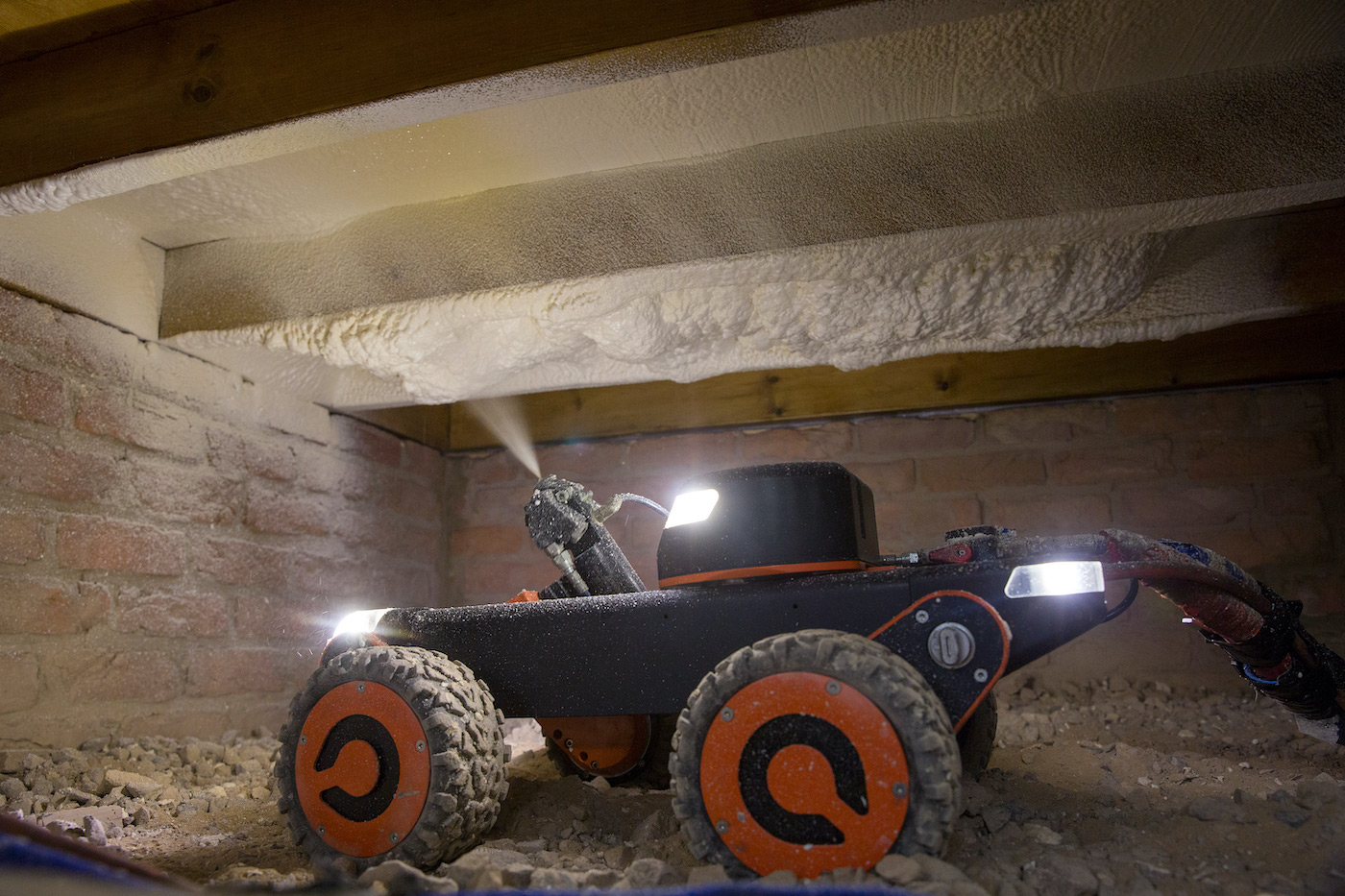 In response to the Coronavirus crisis, Q-Bot has developed a 'Q-Bot Ready' framework to continue installing its robotic under-floor insulation in homes. Working practises, health and safety documentation and installation processes have been adapted to ensure surveyors and installers operates in a safe manner and the data is retained on Q-Bot's install management system (IMS) where it can then be accessed remotely. The robots are controlled from a work station which is set up outside the property under the protection of a temporary gazebo, ensuring contact time with customers and any risks are minimised throughout the installation.
A private homeowner said: "I would thoroughly recommend Q-Bot to provide underfloor insulation services. They made some Covid-19 checks and confirmed the arrangements to put in place to ensure all of our safety. The whole ground floor of our house is now insulated with only minor disruption to our home during the installation process." – Graham
By the nature of its solution, Q-Bot provides a non-intrusive energy efficiency measure which has a significant impact on people's comfort, reducing energy bills and carbon emissions, and tackling fuel poverty. The robotic solution turns traditional, difficult tasks into high tech, safe and less physically demanding processes. The Q-Bot position can best be described as balancing the overriding concern of keeping customers and staff safe, whilst allowing landlords and homeowners to continue with important work to upgrade the energy efficiency of their homes. The UK has an ambitious climate change agenda and needs to upgrade properties to meet the UK's carbon targets by 2050. The recently launched Green Home Grants Voucher scheme aims to provide funding to homeowners to retrofit hundreds of thousands of existing homes across England.  
Q-Bot Ready demonstrates an approach to addressing the challenges presented by the Coronavirus using innovative technologies. As a result, social landlords, private landlords and homeowners can continue maintaining and upgrading their properties. Flagship Homes, a housing association in East England, recently partnered with Q-Bot to install under-floor insulation in 38 properties.
"We're always looking to embrace a greener, cleaner approach to our thinking, homes and across our business. Traditional options to insulate flooring tend to be very costly and disruptive to customers - that's why we're excited to work with Q-Bot and its innovative robot to tackle fuel poverty. The pilot has got off to a really good start with great customer feedback already! We're one step closer to improving the future of our customers and communities, as well as the future of the planet" – Megan Gonsalves, Energy and Sustainability Manager, Flagship Homes
Article published in ABC&D Magazine.