Q-Bot and Airlok partner to install underfloor insulation in more than 1,000 properties in North England
Q-Bot is proud to announce a new strategic partnership with Airlok to deliver its robotic underfloor insulation solution in the North East of England. Q-Bot and Airlok will strive to work together towards a greener and more sustainable housing sector by using cutting-edge technology to retrofit UK homes.
Q-Bot has brought to market innovative solutions to modernise the construction industry with the objective of using robotics and AI to survey and insulate suspended floors. Q-Bot has developed a robot that can fit into the underfloor space void beneath a suspended floor, first to carry out a survey and then to spray insulation onto the underside of the floor, keeping heat in the property and draughts out. This cuts energy use and carbon emissions, saving households money by an average savings of £150 per year (Energy Saving Trust, 2020).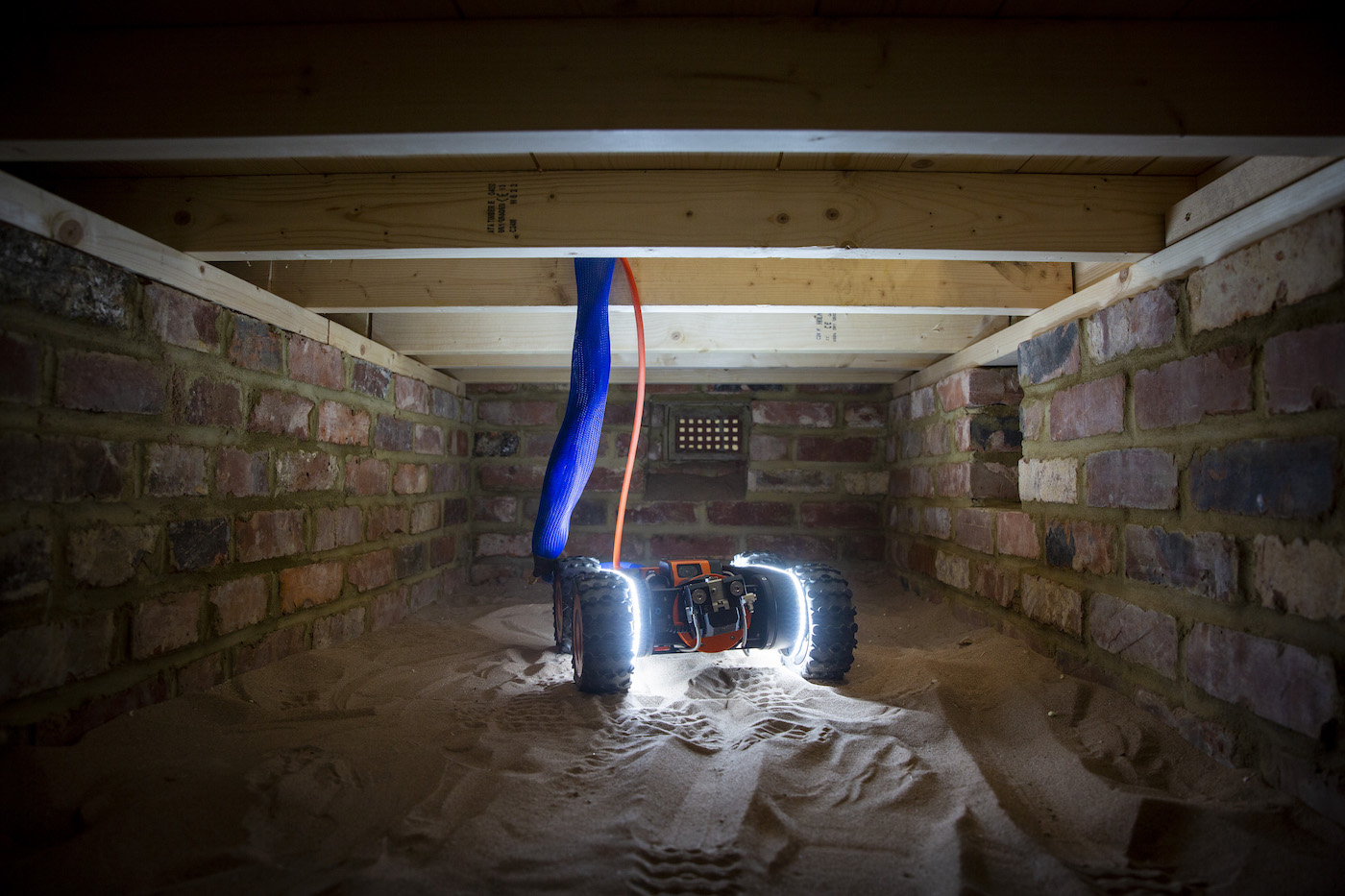 This will allow Airlok to apply insulation where it is impractical and/or unsafe for humans, and without the cost and disruption of traditional methods. The high quality of each installation is certified with a 25-year warranty and can easily be verified in Q-Bot's Retrofit Management platform, an application via a web portal that allows customers and contractors such as Airlok to effectively manage retrofits, demonstrate their quality, create the records needed for compliance, and monitor work remotely.
Airlok is now an Approved Q-Bot Installer, delivering underfloor insulation to homeowners. They intend to grow the number of robots in their fleet as they take on more and more work while retaining consistency and quality of delivery for which they are renowned. Airlok is an accredited BASF Foam installer, and a Government Trustmark licensed heating and insulation contractor. The company also provides solutions for the insulation of roof and wall as well as services to replace boilers and a full range of renewable energy systems. In addition, Airlok will target Local Authorities to increase the fuel efficiency of people's homes, cut emissions and help save on their fuel bills, under the Green Home Grant Local Authorities Delivery Scheme and the 2020 Governments ECO3 Scheme.
"Airlok has built a specialised heating and insulation business, based upon high quality and effective solutions, for both businesses and homes. The technology and inherent quality of Q-Bot's underfloor insulation solution is a perfect addition to our ever-developing energy efficiency portfolio. We are all excited about this pioneering partnership and look forward to working with Q-Bot to install floor insulation throughout the North East." – Ronan Jackson, Director at Airlock
Through the use of technology, Q-Bot and Airlok are dedicated to improve the energy efficiency of existing UK homes, contributing to achieve net zero carbon by 2030 and helping households who are in their time of need to simply be warmer and more comfortable at home.
"Q-Bot is delighted to have the opportunity to partner with Airlok, and we see enormous potential in the areas where they operate. We share with Airlok an obsession for high-quality work. They have a reputation for being an excellent installer of energy efficiency measures, and we believe this will make a difference in hundreds of homes in 2021 and beyond." – Martin Jervis, Chief Commercial and Operating Officer at Q-Bot