Q-Bot receives Queens Award for Enterprise with HRH Prince Charles at Windsor Castle ceremony
Underfloor insulation expert, Q-Bot is celebrating receiving the Queen's Award for Enterprise in the Innovation category at a royal reception hosted by His Royal Highness, Prince Charles
Q-Bot received the honour in 2020, but, in a Covid-delayed awards ceremony, attended a royal reception at Windsor Castle on 10 November 2021. Martin Jervis, chief commercial and operating officer, attended the event on behalf of all Q-Bot employees and shareholders to mark the occasion, and receive the award.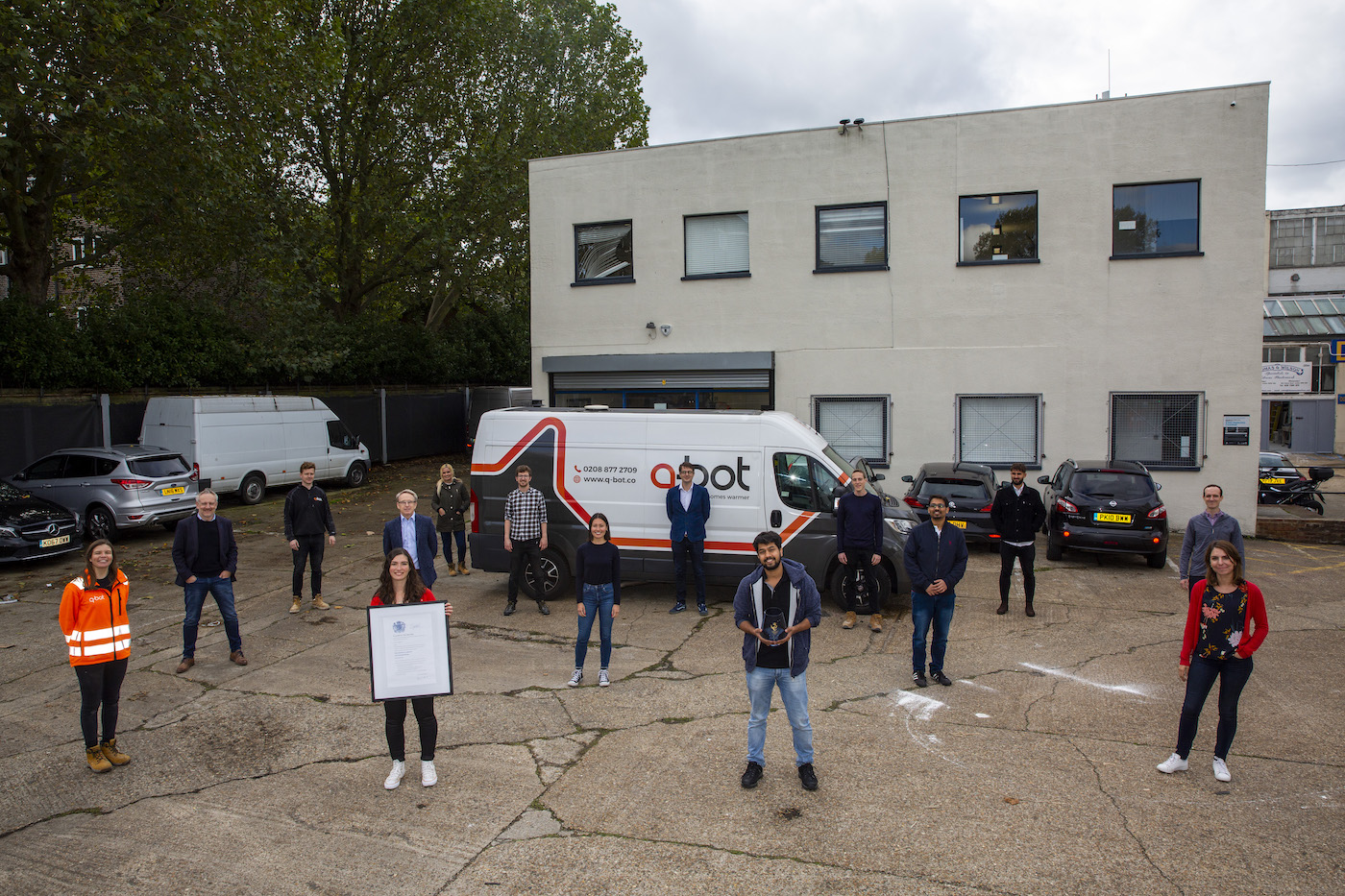 Q-Bot is honoured to receive such a prestigious accolade and be recognised for business excellence, innovative thinking and cutting-edge technology alongside the esteemed range of past and present winners. Now in its 55th year, the Queen's Awards for Enterprise represent the UK's most prestigious recognition for businesses. Winners of this category also need to demonstrate commercial success as a result of innovation, and an award recipient is entitled to use the Queen's Awards emblem for five years.
Through the use of robotics and AI, Q-Bot is pioneering new approaches to maintain and upgrade its buildings. Mathew Holloway, Q-Bot's CEO and cofounder, explains:
"Q-Bot was founded nine years ago following a particularly arduous retrofit project. Whilst fitting insulation, and being squeezed between the joists, we thought there must be a better way and so the idea for Q-Bot was born - if we could use a robot to get into tight spaces and apply insulation, we would not have to rip the house apart, or squeeze in ourselves.
In developing our solution, we had to solve two further challenges: what is the right solution for each property; and, how to measure quality if no one can see the work. As a result, we now supply contractors with a range of tools that make it easier to retrofit homes: that identify the needs of each property; apply materials in hard-to-reach areas, automate repetitive tasks and track works being done.
This makes workers safer and more accountable. Q-Bot's approach for insulating suspended floors is also the only solution, traditional or otherwise, to be fully accredited."
More than eight million homes in the UK have suspended timber floors and very few have been insulated. These homes tend to be some of the worst performing, with low EPC scores, a high prevalence of fuel poverty, and few practical or cost-effective options to upgrade them. Insulating a suspended floor is typically expensive and disruptive, requiring you to remove the floor and fit insulation between uneven joists, before putting everything back together again.
To address this challenge, Q-Bot has developed a robot that can fit into the space beneath a suspended floor, survey the area, creating a 3D record, check the condition of services, spray insulation onto the underside of the floor, measure the area and depth of insulation to verify the job done. The insulation immediately reduces the heat lost through the floor and stops draughts. As a result, the house is warmer, more energy efficient and much cheaper to heat (heating bill reduced by 16% per year). The install can be completed in just a few hours and without disturbing those living in the property.
Q-Bot's fleet of robots has already completed more than 2,000 installations in the UK since 2012, using robotic technologies for sustainable building retrofit, maintenance and construction. Its work has harvested CO2 savings equivalent to planting two million trees.
Q-Bot is committed to continually innovating its fleet of robots, and has recently announced its next generation of underfloor insulation robots. This will ensure that every robot- – each one named after inspiring people, including Michael Faraday and Greta Thunberg – uses the latest in smart digital technology. The generation of underfloor insulation robots includes recent improvements such as the addition of sealed wheels that can drive underwater, and a new design of the spray platform to control insulation thickness.