Q-Bot returns to Housing 2022
Housing 2022, Chartered Institute of Housing's annual conference and Europe's leading housing festival, returns to Manchester Central on 28-30 June 2022.
Housing 2022 is the must-attend event for local authorities, housing associations, key partners and suppliers, government, housebuilders, and developers. With thousands of attendees, 10 theatres, 450+ speakers, 300+ sponsors and exhibitors, it is the biggest meeting place for the whole housing sector.
Visit Q-Bot's stand A13
Q-Bot is delighted to exhibit again at the big housing gathering, and the team is very happy to welcome you on the Stand A13 near the Unlock Net Zero Stage!
Come and meet the Q-Bot team along with Betty, our famous robot spraying insulation to find out more about our offering, successful retrofit projects, available funding, and how we can help you shape successful funding bids.
Don't miss out the retrofit session at the Knowledge theatre on 28/06 at 2.3pm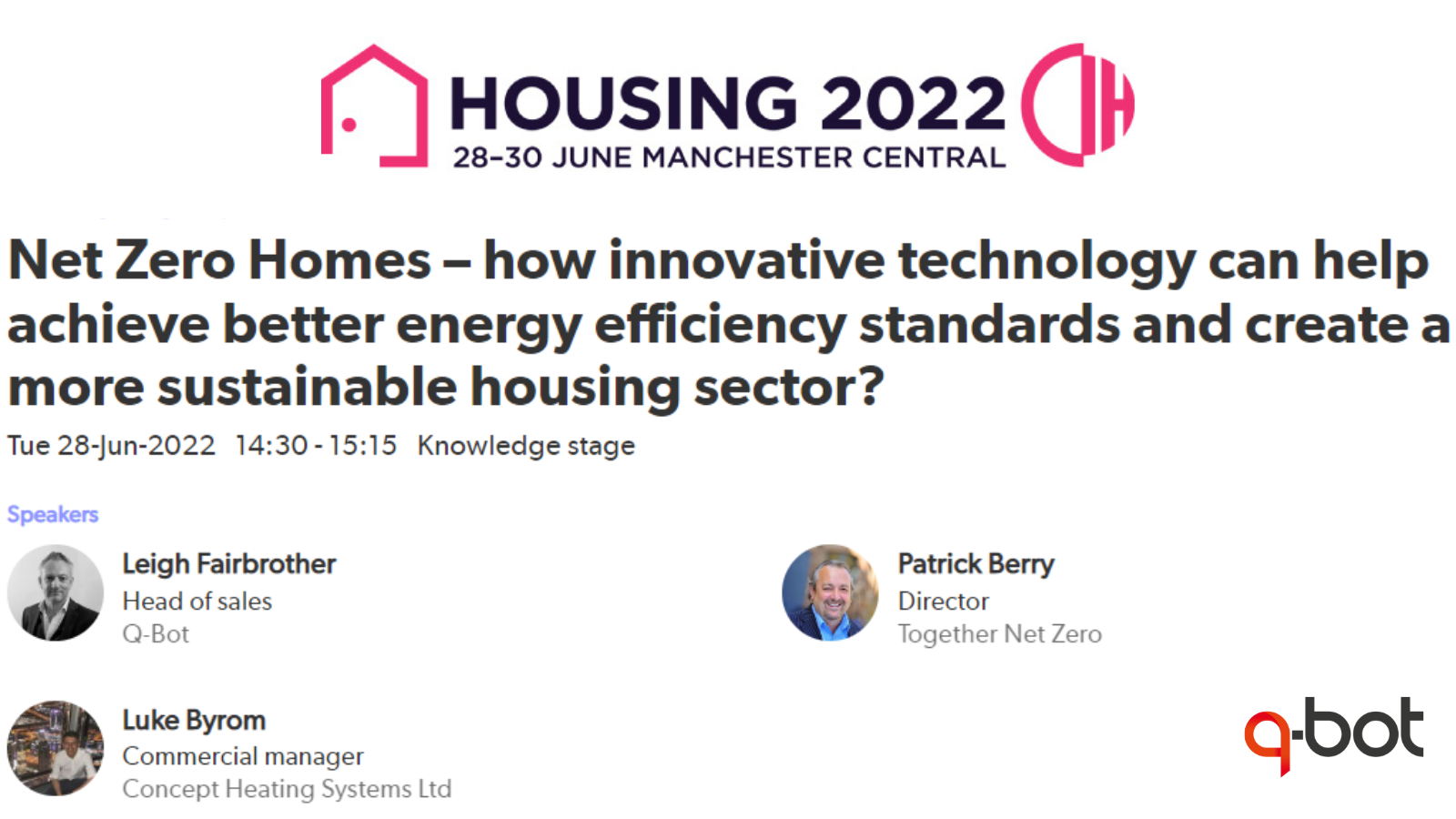 With the unprecedented rise in energy prices, more residents are struggling to pay their energy bills. The UK is known to have the least energy efficient housing stock in Europe. In order to achieve the UK's climate target, 25m homes must be retrofitted. Today, the focus is on assisting housing providers in meeting their carbon target by improving the fabric of buildings in the most cost-effective ways possible.
Together Housing, Concept Heating and Q-Bot will discuss how innovative technologies can be used to implement high performance retrofit measures to significantly increase SAP scores and reduce the demand for heat. The talk will explore different retrofit measures that can reduce heating energy requirements with a focus on floor insulation.
How Q-Bot can help
Q-Bot's solution uses a robot to apply insulation to suspended floors:
Installed in 1-2 days to minimise disruption.

SAP improvement of 2 to 12 points (verified by Energy Saving Trust), resulting in an average energy savings of £250 per year.

Eligible primary measure for ECO, GHG-LADs, SHDF and HUG attracting funding for DEFG rated properties.
Q-Bot's underfloor insulation can be installed as a standalone measure or part of a Whole House Retrofit, both approaches are designed in line with PAS 2019:2035. Q-Bot can provide the retrofit coordinator and retrofit assessment service, or only be in responsible for the technical surveys, retrofit design and installation.
Register now to attend Housing 2022
The delegate pass will give you access to the award-winning Fringe, the Unlock Net Zero stage, Procurement for Housing Live, the Connected Futures stage, the Climate Change Hackathon and the Knowledge and Insight stages. Plus, the drinks receptions on the Tuesday and Wednesday on the showfloor from 16.30.