The Secretary of State for BEIS visits Q-Bot's labs in London
Q-Bot was delighted to welcome Secretary of State for Business, Energy and Industrial Strategy, The Rt Hon. Alok Sharma MP to our labs on Thursday the 7th of October. The Secretary of State got to witness first hand the latest batch of robots and see how the Green Homes Grant is impacting companies like Q-Bot, who are tasked with delivering the green recovery.
Business and Energy Secretary Alok Sharma said: "Green home improvements will save people money on their energy bills, help to cut carbon emissions, and create new work for many thousands of builders, plumbers and other tradespeople."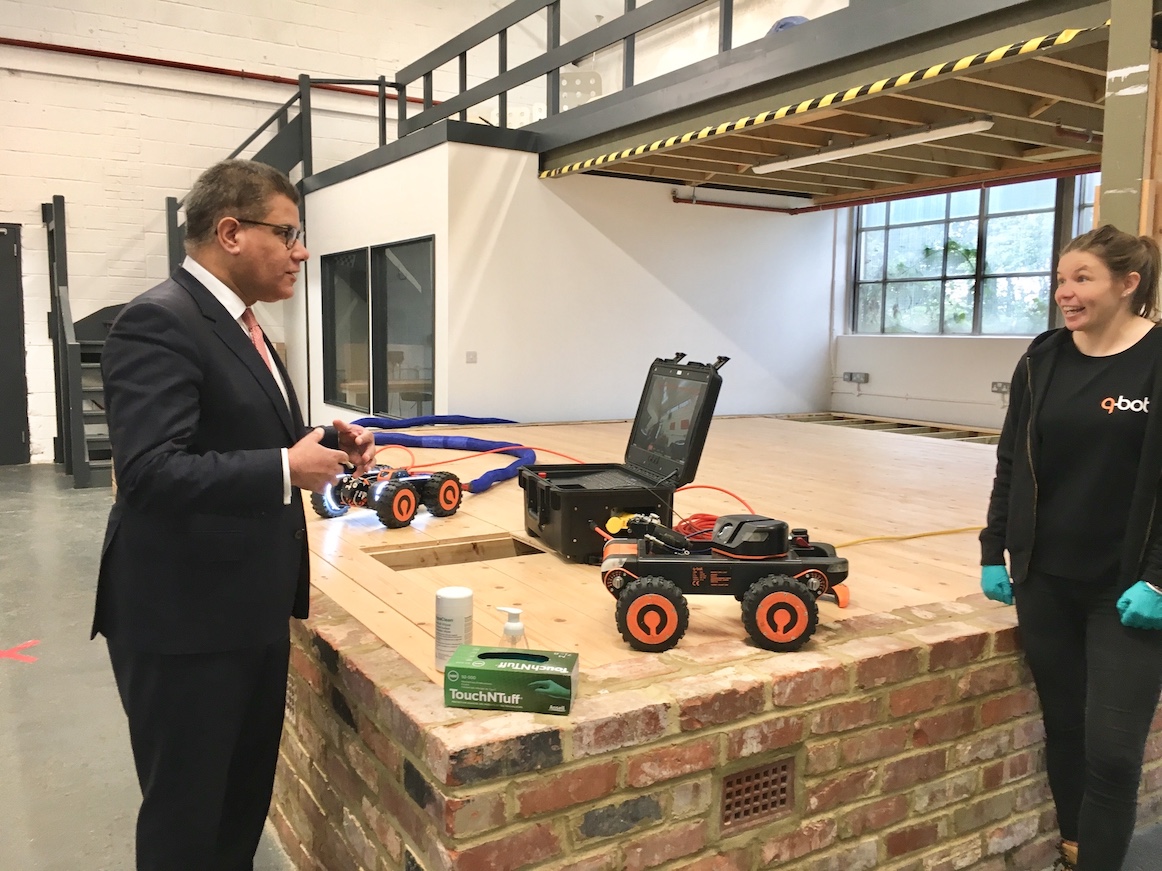 "There are millions of cold and draughty homes in the UK. If we are serious about addressing carbon emissions and transitioning to a clean economy we must find ways to upgrade them. It simply won't be possible to meet the UK's Climate Act without doing so. However, it is one of the most challenging problems we face. Retrofitting insulation is often disruptive, difficult and expensive to do well.
This is why we setup Q-Bot, to make retrofitting our homes much easier. Our goal is to make it easy for contractors to deliver quality retrofits in people's homes. We do this by providing our installation partners with new processes that remove practical barriers and have quality built into every step. We record every install and ensure each and every job is accountable, while measuring the impact of the work.
Many contractors are proud of their work, but now they can show their customers what they have done and the results of their efforts.
Insulation is rarely considered sexy, but installing it is the next best action for millions of homes, which is why The Green Homes Grant is so vitally important. This catalyst will encourage companies like Q-Bot to invest to meet this challenge. The construction industry must now collectively step up and show that we can deliver quality at scale, have a positive social and environmental impact, while demonstrating the range of rewarding careers on offer.
If it is this easy to upgrade your home, make your home much warmer and reduce your bills - why wouldn't you?"
Mathew Holloway, CEO and Co-Founder.
Impact:
Jobs: The Green Homes Grant has helped Q-Bot safeguard jobs and bring forward recruitment plans. Across Q-Bot's supply chain we estimate that more than 600 jobs will be created over the next 4 years.
Reduction of carbon emissions: Q-Bot's under-floor insulation reduces the average heating bill by 16%, or £150 a year. The Energy Saving Trust has verified the heating cost and carbon savings which for a typical home is 650kg of net CO2e per year and approximately 26 tonnes over the lifetime of the measure. This translates to the equivalent CO2 savings of planting 300 trees per household.
Creation of installation partners across the UK: Q-Bot works with install partners to deliver the service to homeowners and landlords across the country. Q-Bot provides install partners with access to the quality control systems, robots and the other equipment needed to deliver the service as well as training, support, service and maintenance. Each partnership generates dozens of green jobs within the local community.
About Q-Bot:
Q-Bot is a 'Queen's Award for Innovation' winning developer of intelligent systems to inspect, monitor and maintain the health of buildings using Robotics and AI. Our solutions ensure that people have a cost-effective and non-disruptive way to make their homes warmer, comfortable and energy-efficient, while at the same time bringing much-needed quality, accountability, and informed, data-based decisions to building management.  
Q-Bot developed the first affordable, ECO3 funded solution to retrofit insulation to suspended timber floors. Verified by the Energy Savings Trust, fully accredited by BBA and developed with the support of BEIS and InnovateUK, Q-Bot's under floor insulation (UFI) is a non-intrusive energy efficiency measure that increases SAP scores, eliminates draughts, cuts carbon emissions, improves thermal comfort and reduces heating costs (Average savings of £150/yr).
You can view the robot in action here and customer testimonial here.