GHG-LAD Installation of Underfloor Insulation in Islington's Borough
Islington Council has received funding under the Green Homes Grant Local Authority Delivery Scheme phase 1A to install underfloor insulation in E, F, and G-rated properties in the borough. Installations were completed in Islington Council's own properties, Housing Association properties, private rentals and homeowner's homes, aiming to reduce carbon emissions and tackle fuel poverty.
Contracted via Procurement for Housing framework, Q-Bot was appointed for the second time by the Council, as an experienced installer, to install its robotic underfloor insulation delivered with minimal disruption to residents. The installs were completed without lifting the floor or needing to physically enter the underfloor void.
Q-Bot  has carried  out all relevant actions necessary for the works to qualify for Green Homes Grant funding. This includes providing any assistance, documentation, data and access to Islington Council for compliance and reporting to BEIS Q-Bot's focus on quality is reflected in being the only BBA Certified installer of underfloor insulation, being PAS accredited and TrustMark registered, and qualifying for a 25-year material guarantee for each install.
"Q-Bot is a unique product that has allowed us to insulate underneath floors quickly, cheaply and with the minimum disruption to households in support of our work to create a net zero Islington by 2030. They have offered and responsive service and the work has been carried out efficiently and with no reported issues." – Islington Council
Initial results from the partnership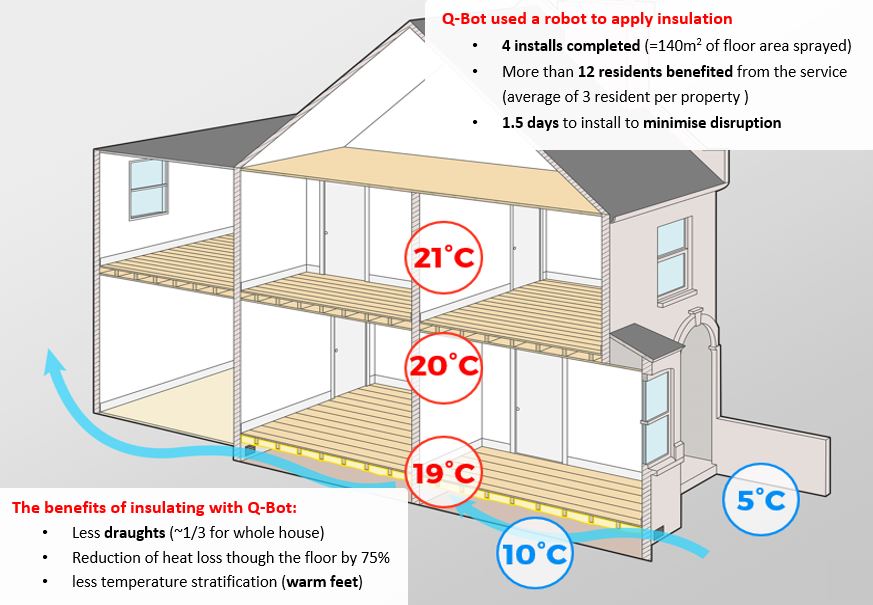 Most properties already had loft insulation and double glazed windows installed, and were all gas-heated homes.
The installation of floor insulation significantly improved thermal comfort with fewer cold draughts and much more even temperatures within the house. The results show, on average, a 75% reduction in the heat loss through the floor. The u-value of the floor in all homes now complies with the Part L1B requirement for upgrading retained thermal elements in existing dwellings of <= 0.25 W/m2.K.
According to an independent performance analysis realised by Energy Savings Trust, the overall project delivered an EPC improvement of between 3-6 points based on building archetype and heating source. It also demonstrated an average energy savings of £100 per year, and carbon savings of 505 kgCO2e per home.
Q-Bot has collected feedback from all households to understand satisfaction rate of the programme of work.
100% said they were 'Satisfied' or 'Very Satisfied' with the installation process, in terms of disruption.
100% said they were 'Satisfied' or 'Very Satisfied' with the communication they received from the team.
100% said they were 'Satisfied' or 'Very Satisfied' the change to their home.
100% scored Q-Bot 7 or higher on a survey of how likely would you recommend Q-Bot (where 0 stood for 'not at all' and 10 for 'highly recommend').
Q-Bot's non-disruptive nature has received praise from residents:
"I had the installation at the end of March, and can already feel the difference, the rooms are warmer. Looking forward to having a proper winter."
"The operatives were great, lovely, and very respectful. A little bit of disruption but nothing that you wouldn't expect. They didn't disturb me and they clean after themselves."
"It was all fine. Thank you again for arranging the installation, which was carried out smoothly, professionally and efficiently by Norell and Luke."
"It was a really easy and efficient work, the workmen were very nice."
"I'm happy with the installation, the installers were very good and polite."
"The installation went good, no real disruption."